Large Capacity Horizontal Drum Lathe
Large Capacity Horizontal Drum Lathe
This machine is available in two versions: the HDL2600-SD or HDL2600-HD. Both are extra large capacity ultra-precision machining systems used for single point diamond turning advanced optical surfaces along the diameter of large generation drums. Featuring high stiffness oil hydrostatic head stock and programmable CNC controlled W-axis tail stock, this machine accepts drums up to 650mm diameter and a maximum length of 3100mm (between chuck faces). Weight capacity 1800 Kg on SD (Standard Duty) vs 3000 Kg on HD (Heavy Duty). Maximum optical cutting zone length is 2600mm.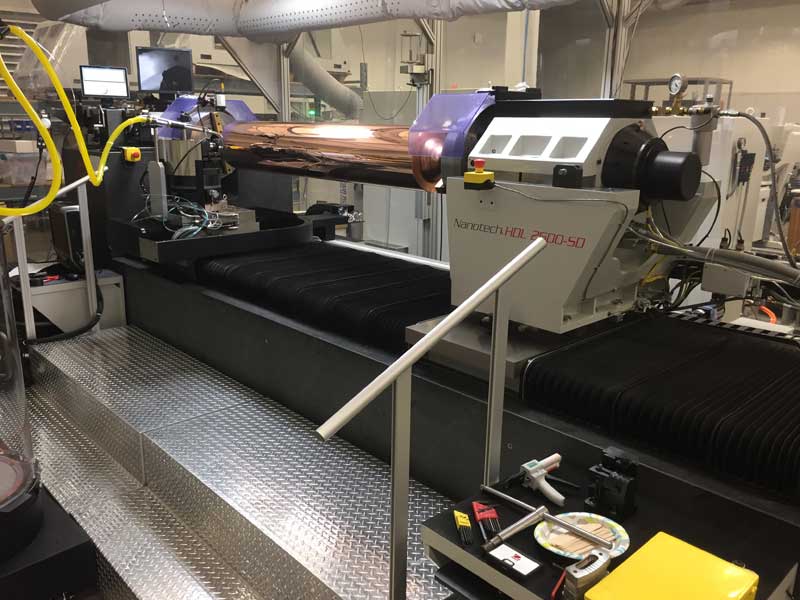 Increased Optical Cutting Zone
Increased max optical cutting zone on drum from 2000 to 2600mm. Maximum length of drum increased to 3100mm between chuck faces.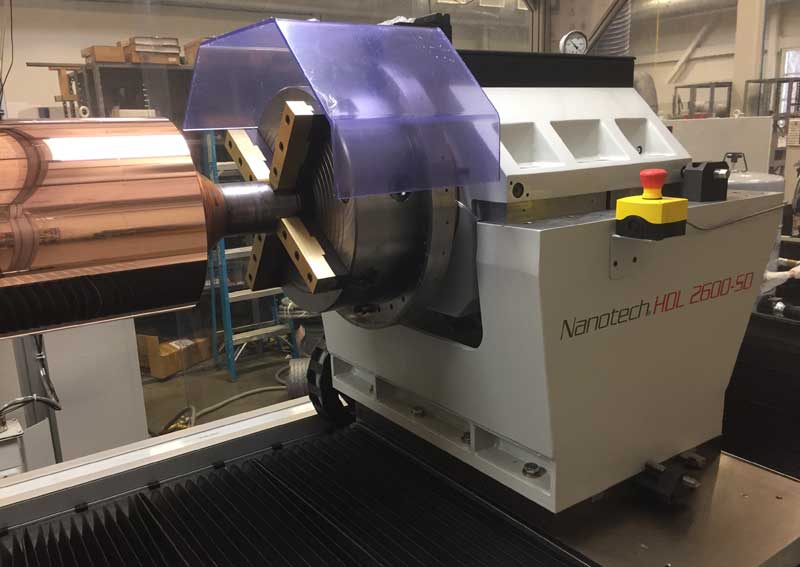 Universal Design
Improved flexibility with a new common base design and HPU cabinet that readily allows us to provide the Standard SD or Heavy Duty HD version by simply upgrading both head stock and tail stock spindles at the factory.
Overall Weight Reductions
Reduced total machine weight:
HDL2600 SD – 20,000Kg (including max allowable drum weight of 1,800Kg)
HDL2600 HD – 22,500Kg (including max allowable drum weight of 3,000Kg)
(Previous generation HDL2000 was 23,300Kg and 29,400Kg respectively)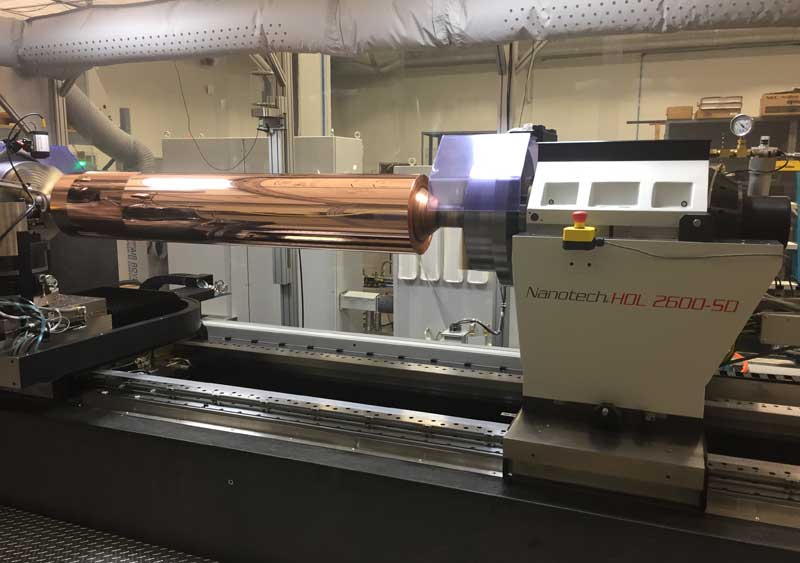 Open Access / Maintenance
Elimination of large full length granite "back wall" riser for easy access to all sides of the system.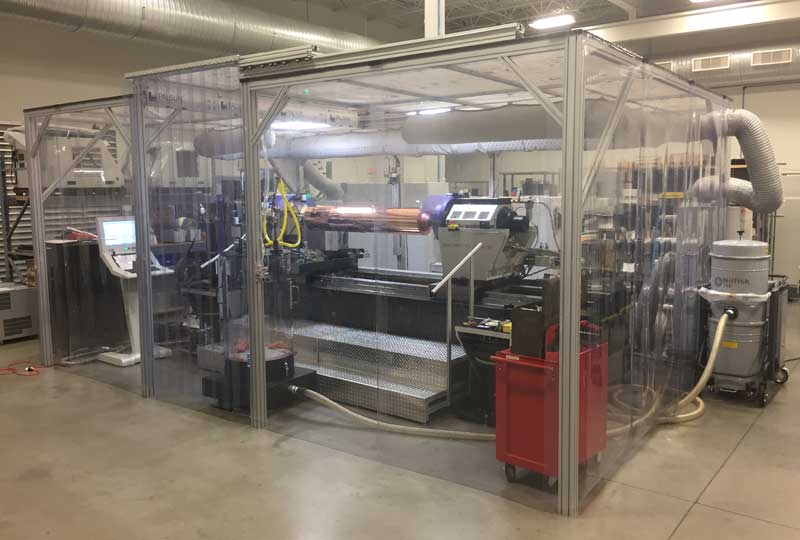 New Environmental Enclosure Design
Larger pneumatically operated opening to ease loading and unloading of large drums. New enclosure design also engineered to minimize installation time at customer's facility.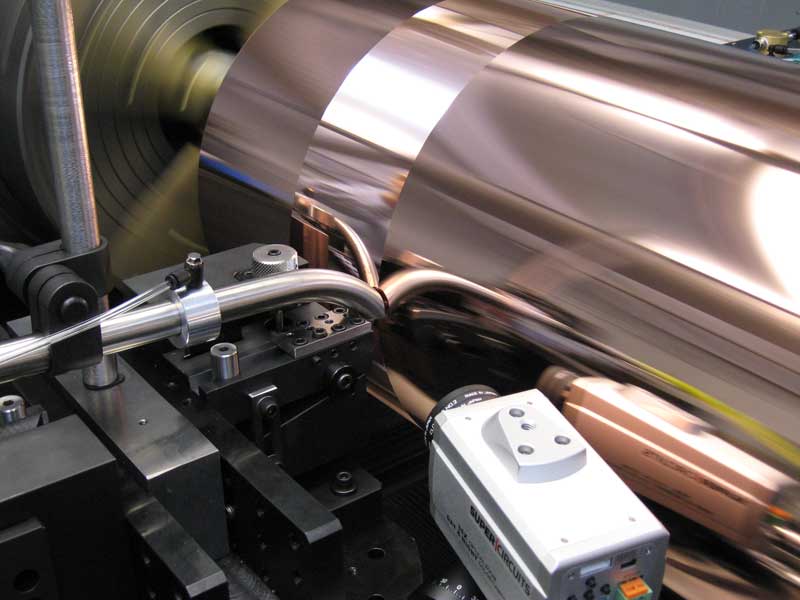 Faster Z-axis Feedrate
Increased Z axis linear motor velocity from 20,000mm/min to 30,000mm/min for improved cycle times.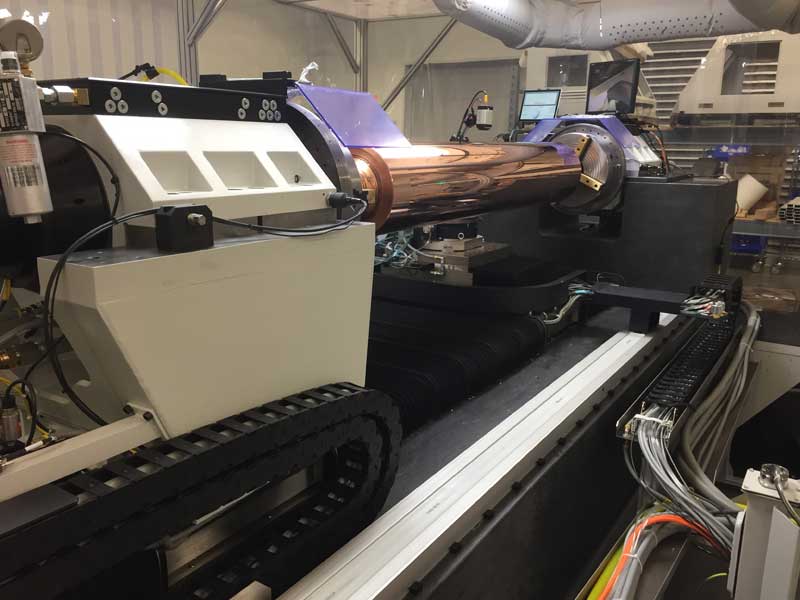 Robust Cable Management Carriage
Re-Engineered Cable Carriage Management System motor to enhance reliability / performance. Cable carriage synchronized with Z-axis linear motion to eliminate any influence.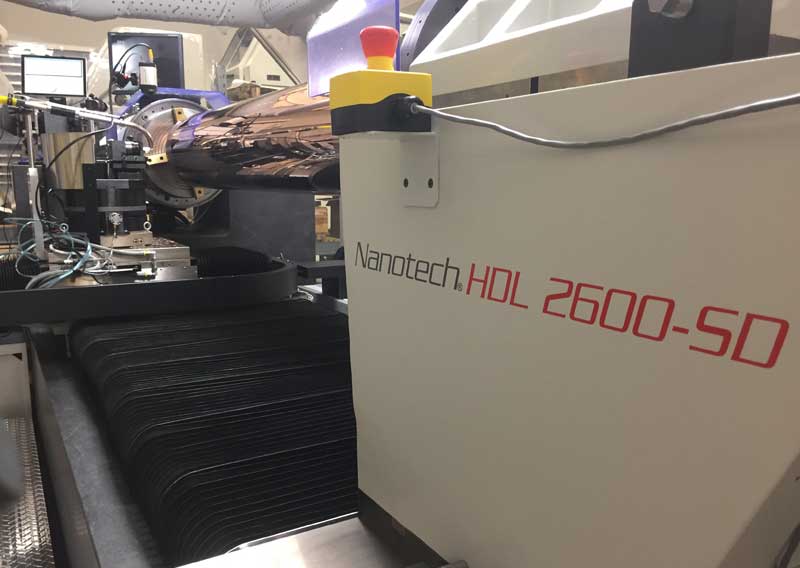 Lower Spindle Centerline Heights
Facilitates technician access to drum, lowered height of spindle centerlines and overall machine height.
HEAVY DUTY (HD) HYDROSTATIC SPINDLES
Our Standard Duty (SD) HDL2600 system can be upgraded to a Heavy Duty (HD) version by simply replacing both the head stock and tail stock oil hydrostatic spindles with larger capacity designs. This upgrade increases the maximum drum weight capacity from 1800Kg to 3000Kg. Both SD or HD designs feature motorized oil hydrostatic bearings mounted on top of a common granite base structure. The Head Stock spindles have C-axis capability via integral motor and rotary encoder with a feedback resolution of 0.000005° (0.019 arc sec).
OIL HYDROSTATIC ROTARY B-AXIS
This rotary tooling axis can be used for either indexing of multiple tools into cutting position, to orient the cutting tool at predetermined angles or for continuous path rotation of the tool during "tool normal" machining of Fresnel surfaces. It utilizes an oil hydrostatic bearing and has 360° of CNC controlled bi-directional motion. This axis is mounted on the X axis carriage. The B-axis has a positioning resolution of 0.02 arc-seconds and a positioning repeatability of +/- 2.0 arc-seconds.
TURRET TOOLING PACKAGES
Requires optional B-axis. Multi-position tool posts with 2 – 4 adjustable tool holders that allow fine adjustment of the tool point relative to the drum centerline in the Y direction. Adjustment range is ±2.5 mm. Tooling packages are capable of accommodating a variety of (optional) tool holders, various Fast Tool Servo options or Diameter Measurement probes.
TOOL NORMAL TOOLING PACKAGE
Requires optional B-axis. Allows the user to orient the cutting tool at predetermined angles or maintain a "tool normal" position relative to the drum surface as is required for some advanced Fresnel type patterns. This option includes an X, Z adjustment stage to allow for positioning of the cutting tool tip over the center of the B-axis and a single fine adjust tool holder for positioning the tool height relative to the drum centerline in the Y direction.
ADDITIONAL ADJUSTABLE TOOL HOLDERS
For use with Turret Tooling Packages. Tool holders accommodate 9mm, or 15mm square tool shanks and allow fine adjustment of the tool point relative to the drum centerline in the Y direction. Adjustment range is ±2.5 mm.
MIST LUBRICATION SYSTEM
Provides lubricant to the drum surface and cutting tool during machining with an adjustable mist system. This is powered by compressed air and it also serves to direct the cutting chip away from the cutting tool and toward the chip extractor.
VIDEO OBSERVATION SYSTEM
The camera system has zoom capability to allow close up viewing of the tool, chip and touch off process.
ON-MACHINE DRUM BALANCING SYSTEM (NanoBalance)
The in-situ drum balancing system includes user friendly software and a series of movable weights (integral to the four jaw chuck assembly) to allow for course balance adjustment and a series of smaller fine adjustment screws for trim balancing. Vibration sensors are mounted on the headstock and tailstock spindles to alert the operator when the vibration is above a predetermined limit.
THERMAL MONITORING SYSTEM (NanoTEMP)
Provides ultra high resolution thermal monitoring and data logging. System resolution is 0.005°C. The system is capable of simultaneously displaying 16 channels of critical thermal data on the operator screen. This includes data provided by embedded thermistors at crucial machine locations, including the machine base, each linear and rotary axis, oil supply, ambient air, and several probes that can be positioned at customer defined locations.
TEMPERATURE CONTROLLED AIR SHOWER SYSTEM
Utilizes two (2) temperature controlled air supply units which deliver air at a temperature of 20°C ±0.1°C variation as measured at the outlet of the air supply duct. This option includes a floor standing enclosure with flexible vinyl walls that surrounds the machine and provides access for a customer supplied crane. Temperature controlled air is distributed to the top of the enclosure and exit at floor level.
CHIP EVACUATION SYSTEM
This system consists of a floor mounted vacuum system with a large transparent collection drum and vacuum gages. A pickup nozzle is mounted above the cutting tool and a hose is supplied to connect the nozzle to the vacuum. The chip suction hose and nozzle are mounted on the X axis and will not interfere with small B axis angular changes.
DUAL CAMERA OPTICAL TOOL SET STATION
(Horizontal & Vertical) The video tool set cameras are mounted on an Invar metrology reference frame next to the headstock spindle and enable a video camera to focus on the top (rake face) of the diamond tool. The tool set station is mounted to the machine on a retractable arm that can be moved away during part loading and machining. The video system is fully integrated with the machine control system allowing the tool image to be displayed on the operator screen. Software is provided that enables the operator to determine the position and radius of a circular nose tool. It can also be used to determine the edge location and included angle of a 'V' shaped tool. The video tool setting system utilizes a second camera to enable viewing and setting of tools mounted in a horizontal orientation. This feature allows for measurements and setting of tools used in a ruling application.
VIDEO MICROSCOPY FOR ROLL INSPECTION
Enables the operator to visually inspect the surface of the entire drum using a video microscope. A removable video camera is kinematically mounted on the X axis and provides 380X system magnification. The Z axis and C axis can be used to move the relative position of the drum to the camera to inspect any part of the surface. The video system is fully integrated with the machine control system and the surface image is displayed on the operator screen. This allows the system to make measurements of the microstructure features.
METROLOGY PACKAGE
Consists of an electronic indicator with magnetic base and amplifier (NanoMETER). Used to aid in the alignment of drums and general machine maintenance. The system measurement resolution is 0.1 µm. Includes a remote wireless operator screen for ease of use with large size drums. The operator interface can be displayed on the main control screen or the remote wireless device.
DIAMETER MEASUREMENT PROBE
Provides the ability to accurately measure the diameter of a turned drum in situ with an LVDT probe. The diameter measurement result is uploaded to the machine control system and utilized to calculate the drum circumference. This value is then used to predict the desired rotational pattern alignment on the drum surface when using a MNTS Fast Tool Servo (FTS) accessory. In typical operation, a spindle speed is determined based on the desired pattern periodicity on the drum surface, the drum circumference and the FTS operating frequency.
FAST TOOL SERVO SYSTEMS
Several models of short-range, high bandwidth tool actuators that enable the machining of non-rotationally symmetric features on the surface of the drum, are available. All versions offer high reliability and are designed for production environments. The fast tool servo mounts on the X axis (or optional B axis) and depending on the version, will servo the tool in the X or Z plane. All units interface with the machine control system to allow commanded movement via motion control programs. Contact MNTS Sales group for further information regarding the FTS system that is best for your specific application.
SPIRAL TOOL HOLDER
For spiral cutting. Allows the cutting tool to be manually rotated from a vertical orientation of the top face to a horizontal orientation in increments of 5 degrees. Includes fine height adjustment mechanism. Spiral Tool Holder also includes Nanotech's SpiralCAM Programming Software which enable simple generation of NC programs and accurate coordination of C-axis rotation with tool position to fabricate spiral groove patterns on drum surfaces. Also calculates number of grooves and estimated cycle time for a selected program.
HAND HELD OPERATOR PENDANT
This hand held controller provides the operator with the flexibility of having a portable remote pendant. Its long cord provides ample freedom to adjust axes positions while being close to the workpiece. Includes docking station for storage when not in use.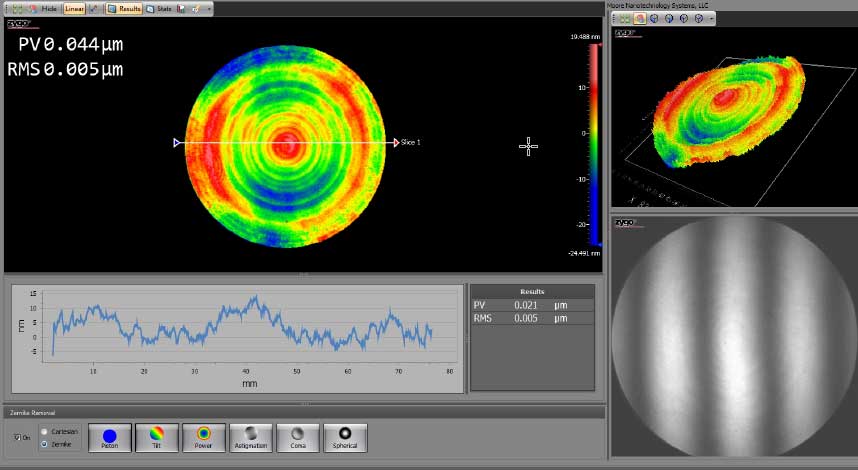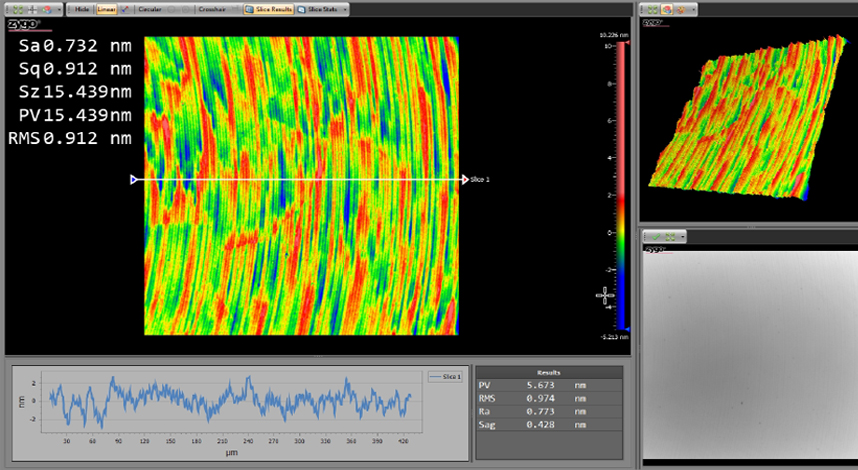 WE QUANTIFY RESULTS THE WAY YOU DO!
Always measured on the same surface, after same finish pass.
Sub-nanometer Surfaces Finishes, Sub-micron Form
Directly Off the Machine in a Wide Variety of Materials!
Diamond Turned XZ Standard Acceptance Test Part
Request a HDL2600v3 quote