The Most Compact and Productive Diamond Turning Lathe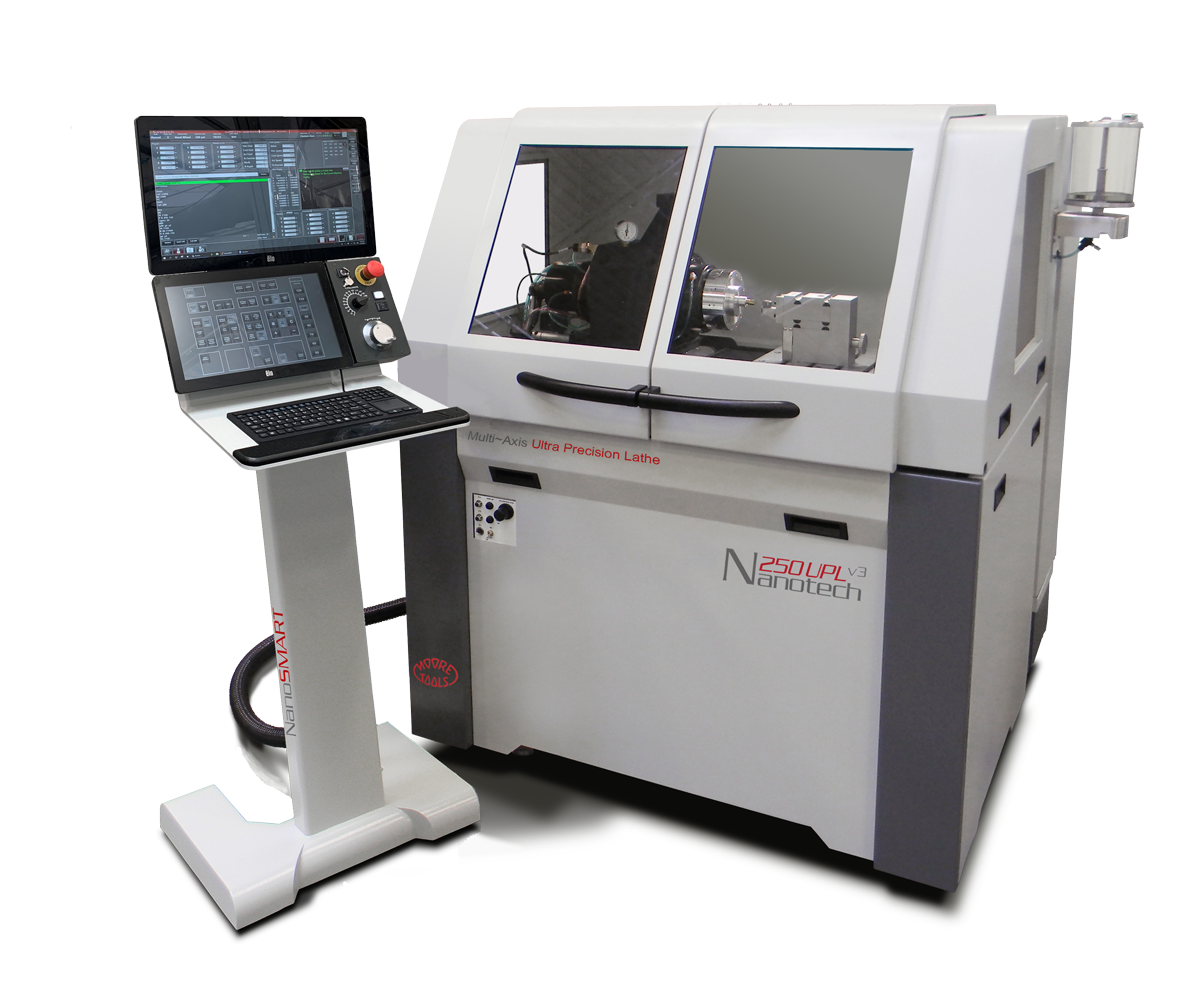 The Most Compact and Productive Diamond Turning Lathe
Used for the rapid production of spherical & aspheric optical lenses, mirrors, mold pins, freeform optics and even mechanical components. If your application fits within a 350mm diameter window (with optional riser package), this machine may be the ideal solution for your ultra precision needs.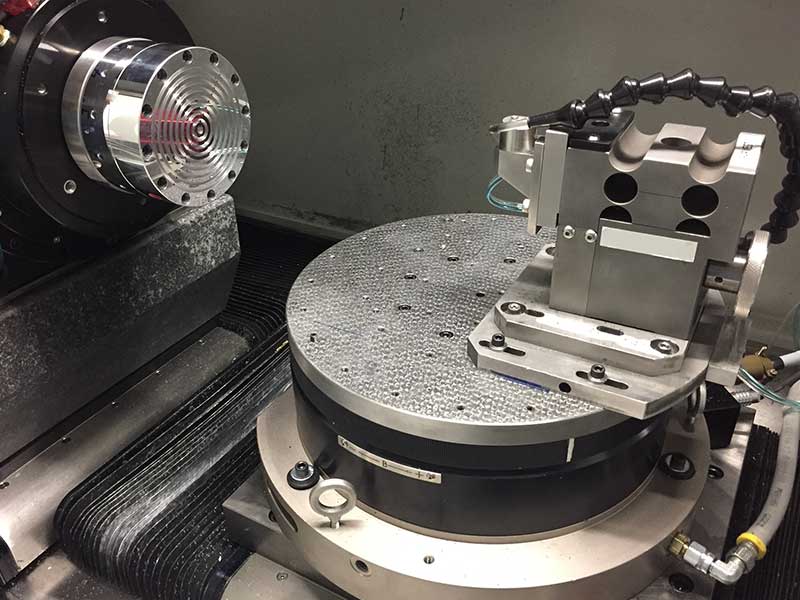 Optional C Rotary with
Linear Y or Rotary B Axis
Expansion of the basic 2-axis system is simple. One can have up to 4 axes of continuous path motion via the addition of C & B or C & Y. The C-axis motion control of the work spindle enables toric, biconic, and other freeform surfaces to be machined "on-axis" via our Slow Slide Servo (S3) process. Our oil hydrostatic rotary B or removable oil hydrostatic vertical linear Y-axis can be configured independently on the Z-axis carriage for future added flexibility.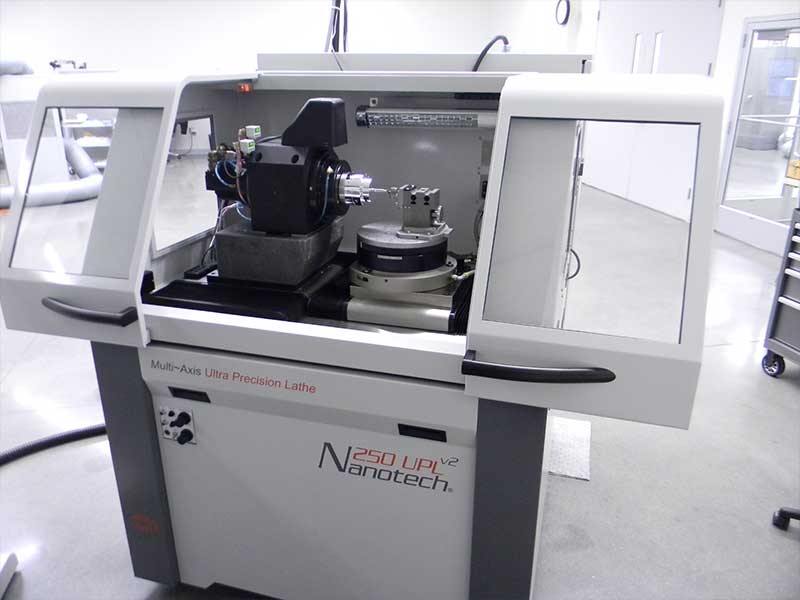 Mechanical Design Strengths
The upper enclosure is engineered to overlap the inner protective stainless steel apron of the system keeping all swarf / coolant within the desired machining area. Large dual sliding doors allow easy access to the entire work area. Both sliding doors overlap when closed and then simply slide to a "full open" position for easy cleaning / maintenance of the machine's entire interior. This system has a natural granite base structure with passive air isolation system. High stiffness and low profile "box-way" style oil hydrostatic slide ways with linear motor drives are engineered into a low center of gravity framework for maximum mechanical stability.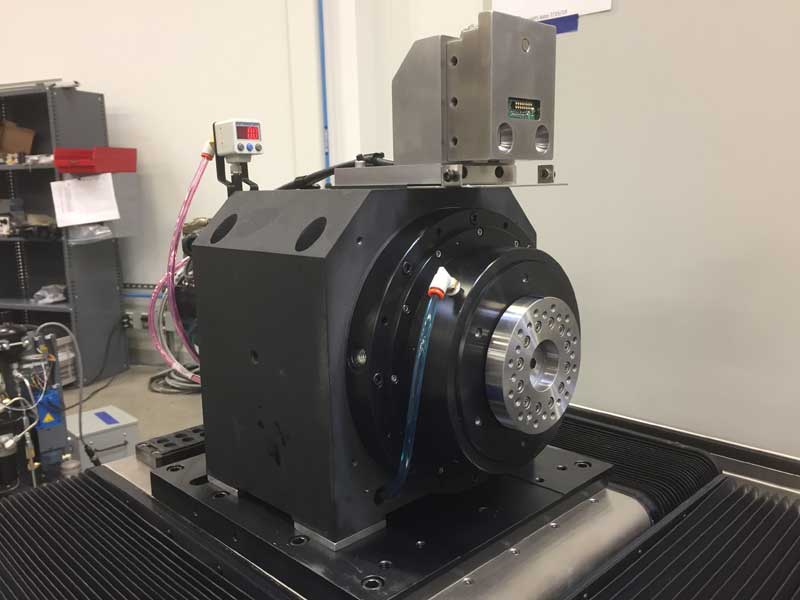 Exclusive "Impact Resistant"
Air Bearing Work Spindle
This ideal center mounted thrust plate design, engineered for both heavy loads and high throughput applications, now includes the added benefits of porous graphite. Motion accuracies are guaranteed to less than 12.5nm throughout its 10,000 rpm speed range with total liquid cooling for long term thermal stability.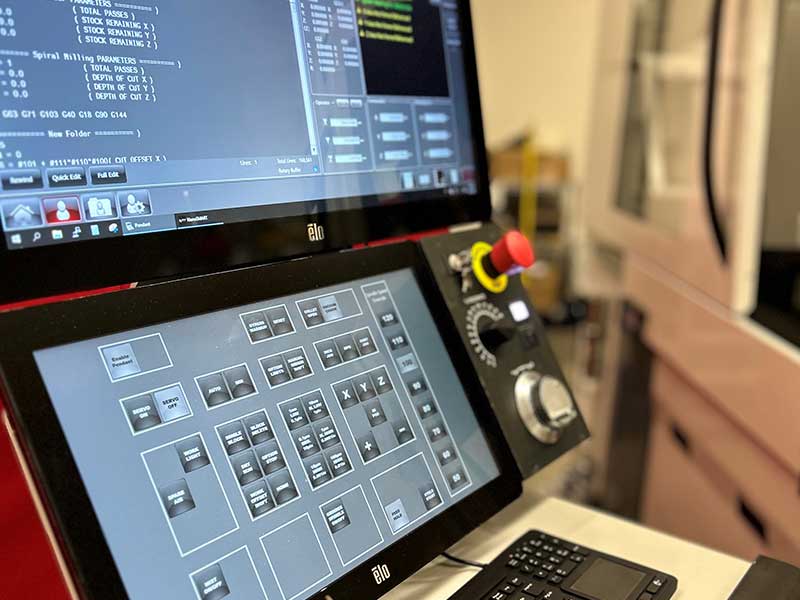 NanoSMART® Windows Based Interactive HMI Control System
This high speed 64 bit Delta Tau 1.2GHz Quadcore ARM based PowerPMAC controller is the industry's leading touch / swipe gesture "smart" screen display. 5GB program file sizes, 4X increase in computational power compared to single core processor, rapid programming editing functions and 8 picometer feedback resolution. Three customizable 22" wide screens are accessible by swiping left or right keeping all the information you prefer at your finger tips. We welcome you to experience the difference with our most user friendly NanoSMART HMI.
ADDITIONAL ACCESSORY OPTIONS
ROTARY C-AXIS CAPABILITY FOR WORK SPINDLE
One of our most diverse and popular options which allows continuous path contouring using X, Z, & C axes. This option is used for single point diamond machining of toric & freeform surfaces via Nanotech's "Slow-Slide-Servo" (S³)  machining process. Note: S³ machining requires Nanotech's NanoCAM4-3T or suitable software for generation of X, Z, C file formats.
OIL HYDROSTATIC ROTARY B-AXIS
Fully constrained oil hydrostatic rotary bearing option. This axis utilizes a direct drive brushless DC rotary motor and high resolution encoder. Positioning accuracy of +/- 1.0 arc second and feedback resolution of 0.005 arc seconds. Radial and axial motion errors are guaranteed to ≤ 100nm. Includes pneumatic / mechanical brake.
REMOVABLE OIL HYDROSTATIC VERTICAL LINEAR Y-AXIS
Removable Y-axis for the Nanotech 250 or 450UPL. This oil hydrostatic vertical slide has 100mm of vertical travel, 0.01 nanometer programming and 8 picometer feedback resolution. It also features an adaptive air bearing counterbalance for optimum performance when adding and removing parts from its mounting shelf.
POLAR TOOL COMPENSATION
Tool Normal machining typically requires the cutting tool to be positioned precisely over the center of the B Axis. Using PTC, in combination with our Optical Tool Setting System, the tool can simply be mounted anywhere on top of B-axis, eliminating the time required for a precision tool setup at the center of B. Our PTC technology then uses coordinated X, Z and B-axis motions to simulate an alternate axis of rotation about the tool radius' center position. G codes are used to activate and de-activate PTC within part programs.
NanoCAM4 PROGRAMMING SOFTWARE
The most comprehensive ultra precision CAM Programming software available. A result of decades of customer interactions and diamond turning industry expertise, N4 compliments the many advanced capabilities of Nanotech's systems of today and in the future.
WORKPIECE MEASUREMENT AND ERROR COMPENSATION SYSTEM (WECS)
With free software upgrades for life via our FTP site, WECS is a valuable accessory upgrade for on machine form measurement & correction to less than 0.1µm. WECS has continuously evolved to improve both efficiency and capabilities. Recent additions include the ability to bypass a hole at center, a skip point function for fast surface measurements, and freeform data capturing.
NFTS-6000 FAST TOOL SERVO
Our Fast Tool Servo (NFTS-6000) is used for machining of specific freeform applications such as micro-structuring on surfaces. This closed loop system has 6mm of total travel (+/-3mm). It includes a custom micro-height adjustment stage with +/- 2.58 mm travel and adjustment resolution of 0.14 µm/degree (5.6µ"/degree). NanoCAM4³T freeform programming software is required.
OPTICAL TOOL SETTING SYSTEM (OTS)
Our latest Air Shower Temperature Control System is capable of providing a 20:1 improvement in temperature variation for the machine's upper enclosure. Features Solid State Thermo Electric Technology (TEC) thereby eliminating the need for any refrigerant coolant!
TEMPERATURE CONTROLLED AIR SHOWER
Our latest Air Shower Temperature Control System is capable of providing a 20:1 improvement in temperature variation for the machine's upper enclosure. Features Solid State Thermo Electric Technology (TEC) thereby eliminating the need for any refrigerant coolant!
VACUUM CHUCKS
Three different size vacuum chucks are available. These aluminum chucks are typically mounted to the workspindle and contain 12 radial balancing holes. (100, 150, or 200mm diameter available).
FLYCUTTER HEADS
We offer two fly-cutting heads designs. The simplest form is shown here and is typically used for raster machining. The second design allows for independent adjustment of rake and tow on the diamond tool.
WORK SPINDLE CHILLER
Spindle chillers are required for thermal stability of the main work spindle and also any grinding or milling spindles. This chiller operates at 200 / 230 V single phase plugs into a dedicated outlet. It is integrated on the machine controller for performance monitoring.
NanoBALANCE® SOFTWARE
Displayed on machine controller for assisting the user in dynamic balancing of the work spindle. NanoBalance offers a flexible user interface that supports the most common balancing methods including single weight, test mass & balance screws.
NanoMETER®
Three channel On-Screen digital amplifier is available for use with LVDT probes and the electronic gage head. This software comes standard with WECS package or can be purchased as a separate accessory.
ELECTRONIC GAUGE HEAD/MAGNETIC STAND
Commonly used to indicate part diameters or precision fixtures to position their centers on (optical) axis of the work spindle. Works with NanoMETER on screen amplifier gauge.
MICRO-HEIGHT ADJUST TOOL HOLDER
High stiffness micro-height adjust tool holder with coarse & fine adjustment. Allows user to precisely adjust the tool height for placement on optical center. Our flexure design holds tool rake angle constant.
DUAL NOSE TOOL HOLDER
Ideal for small part production applications so multiple diamond tools can be set-up to optimize the available space on Z-axis table. Independent coarse & fine tool height adjustment. Includes base plate spacer for proper nominal tool height.
CNC PROGRAMMABLE TOOLING STAGE
Programmable height adjustment for multiple tools. Total vertical travel of 25mm with a Bi-directional repeatability of 0.1µm and linear resolution of 1.2nm. Simply use control pendant to quickly establish proper tool set up heights with MPG wheel or incremental buttons.
OPTICAL OBSERVATION PACKAGE
Used to safely monitor machining inside the enclosure environment. Image is displayed using the Observation Module on a NanoSMART HMI. Images and / or videos are easily captured. Manual focus / zoom camera with 1.3MP Resolution.
SPRAY MIST COOLANT SYSTEM
Complete system with tank, spray nozzles and magnetic mixer base to deliver smooth flowing coolant to the cutting surface. The standard system includes two nozzles, but can be configured with 2, 4 or 6 independently programmable mist nozzles.
STAINLESS STEEL COOLANT SHROUD
Mounts directly to the spindle housing to minimize cleanup time. Captures majority of slurry & chips throughout the machining process. Ideal for IR lens production, the shroud features a removable top half for easy access to the workpiece.
SELF LEVELING SYSTEM
Provides self maintenance of the machine's air isolation system to ensure both proper float and table levelness as weight is added or removed from either the Z-axis slide or main work spindle.
PART CENTERING DEVICE (PCD)
Eliminate manually indicating of each part. Accurately position your parts on the spindle centerline automatically. Positioning accuracy to 1µm is accomplished within 30 seconds when starting from a decentered value of 0.5mm. User friendly software with 3 operation modes.
HIGH RESOLUTION 3D TOUCH PROBE
Enables on-machine mechanical measurement of diameters and center thicknesses via a ruby tipped probe with a resolution of +/- 0.25μm. Measurements can be linked directly to production part programs for automatic adjustment when needed prior to removing the finished part from the spindle.
HAND HELD OPERATOR PENDANT
This hand held controller provides the operator with the flexibility of having a portable remote pendant. Its long cord provides ample freedom to adjust axes positions while being close to the workpiece. Includes docking station for storage when not in use.
NanoTEMP
Portable 16 channel precision temperature monitoring system. Software is included as part of our Air Temperature Control System or this accessory can be purchase as a separate stand alone item. Multiple probe options available.
SHEAR DAMPED
AIR ISOLATION SYSTEM
An optional upgrade to our standard air isolation system. Shear Damped Air Isolation provides a reduced natural frequency for either facility installations where lower frequency floor vibrations are present or high electro optics applications where such a system may be beneficial.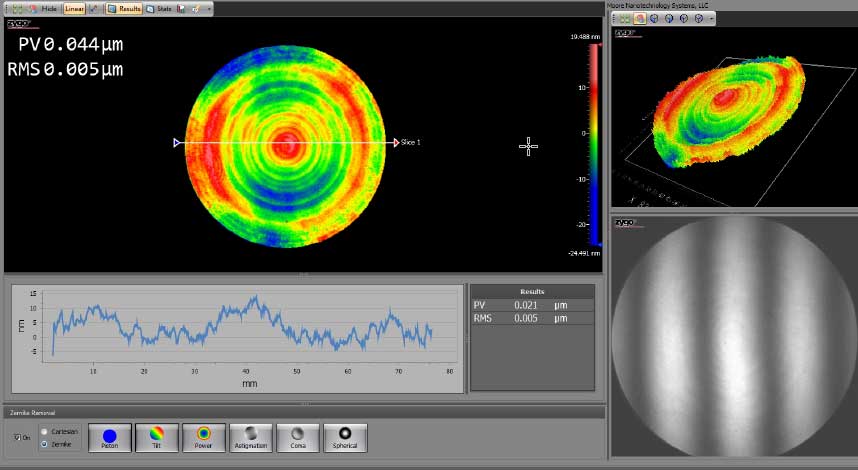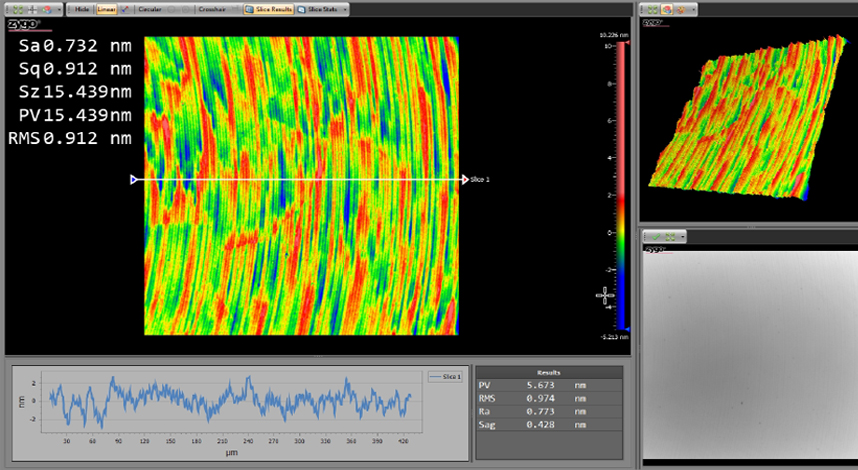 WE QUANTIFY RESULTS THE WAY YOU DO!
Always measured on the same surface, after same finish pass.
Sub-nanometer Surfaces Finishes, Sub-micron Form
Directly Off the Machine in a Wide Variety of Materials!
Diamond Turned XZ Standard Acceptance Test Part